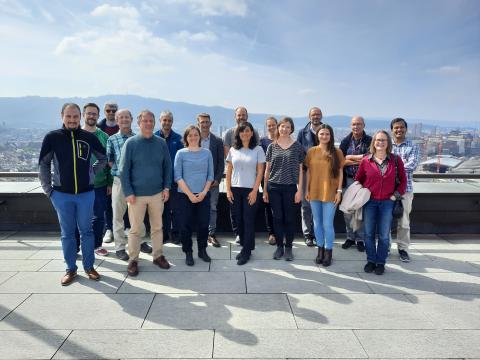 On 22 September, this year's ICOS-CH Annual Meeting has taken place successfully at ETH Zurich. Preparing the meeting needed quite some extra effort and back and forth thinking due to COVID-19 regulations and every now and then Susanne Burri, ICOS-CH coordinator, really asked herself if the decision to do an on-site meeting was right... It was! Despite certificate requirements and wearing masks during all sessions, the ICOS-CH consortium was very happy to finally meet again after two years!
Besides updates from the National Network as well as from ICOS RI, the program also included very interesting scientific presentations and lots of time to just enjoy good food and chat to each other - something which has become rare these days!  This was especially important since new partners from University of Basel had joined ICOS-CH beginning of July 2021. Finally, the ICOS-CH consortium thanked Martin Steinbacher (ICOS Atmosphere MSA chair) for his tremendous work as MSA vice chair (2013-2019) and MSA chair (since 2019 and until the end of this year). 
Of course, we all missed Nina Buchmann, ICOS-CH National Focal Point, who currently is on her well-earned Sabbatical in Sweden. But Lukas Emmenegger did an excellent job as Vice-Focal Point at the fully-day meeting.
We are already looking forward to meeting again next year, this time in Basel!